Bee One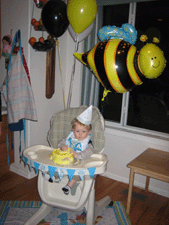 What a great First Year!
We had so many wonderful friends and family come and visit for
Christian's First Birthday!
We took many journeys and saw so many family & friends.
In May we drove through Iowa, Nebraska, Illinois, Indiana, Ohio, Kentucky,
Missouri, Kansas, Colorado, Wyoming, Montana, Idaho, Washingtion, and Utah.
We drove over 6,000 miles. We went to Northern Kentucky to help Granddaddy Corwin
while he had surgery on his knee. Christian was a great helper.
Then it was off on our journey of the Northwest with Grandmommy Corwin.
Christian learned to count to three, say kitty, then continued to increase his vocabulary. He continues to be very active and learning. We have become great friends with Kelli and Ethan Garner and do so much with them. We also joined a playgroup with Hannah, Reed & Annika and Anne, Teddy & Brinlee. Of course, we love our next-door neighbors, Mike, Kristen, Kaitlyn & Chase. You will see a lot of them in our pictures.
Also, Uncle Mike married Aunt Michelle in November back in Kentucky. It was so fun and Christian looked so cute in his tuxedo. We went to Kentucky in July for a shower for them and Karl played golf.
In August, we took a plane on up to Alaska, where none of us had been. We visited with Kenneth and Danielle Gudgen and Chance Steed.
Grandmère Paulson came to visit several times throughout the year and Grandpa and Cinamon came over or went out to dinner with us often.
We also found out over Thanksgiving that we are expecting our "next installment".
So we hope you enjoy some of our pictures. There are so many more, we only wish we had enough time to include them all.
xoxo, karl, kelleymarie and christian